Blockchain gaming-centric firm Affyn has announced a new milestone in selling its first metaverse city with 2,000 Land NFT plots. The land is part of Affyn's NEXUS World metaverse.
Those NFTs that matched their real-world location were sold out in 2 hours!
According to information shared with Finbold on December 19, Affyn noted that the sale of land matching Singapore's real-world locations sold out in 2 hours and 9 minutes. The ability to match location has been made possible by the use of mobile geolocation technologies within metaverse cities.
Specifically, the NFT plot consists of hexagonal tiles with 65.9 meters per side and approximately 15,047.5 square meters per tile. Interestingly, each tile has unique climates and characteristics based on rarity.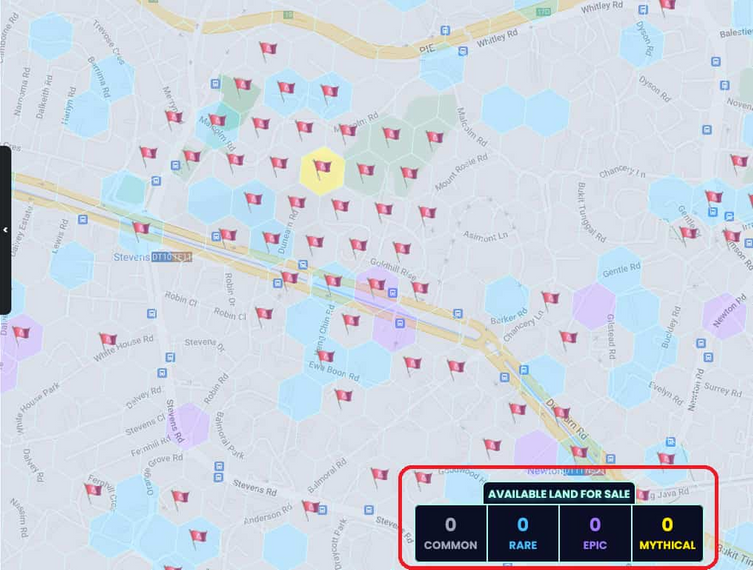 Locations of Singapore's NFT plots sold out in 2 hours. Source: Afyn
Owning NFT land has several advantages such as building and earning money as well as engaging in interesting activities.
Indeed, the most recent milestone is the addition to the first collection of 400 "Generation Zero Buddies" NFTs. Collectibles were purchased within 100 seconds of being listed.
Afyn expansion plan
After the initial success, Lucaz Lee, founder of Affyn, stated that the company plans to expand to other cities with plans to enable landowners to develop their economies in the NEXUS World.
Lucaz, "Once again, our esteemed community is showing extraordinary interest in our NEXUS World initiative. Starting with the Singapore metaverse city, we look forward to seeing how the metaverse economy can function and provide added value for users. With more cities planned, we are excited about the future of the ecosystem, namely to see how Land Owners choose to develop their land to co-create the NEXUS World economy."said.
Also, other global cities are scheduled to launch in the first half of 2023. The platform noted that potential buyers can prepare to buy shares from the ongoing flag sale by purchasing Flags.