Despite the long winter in the cryptocurrency market, exacerbated by the collapse of FTX, once one of the world's largest crypto exchanges, traders are wondering if there is still hope for Bitcoin (BTC) to have a more positive Christmas Day.
Analysis: What awaits Bitcoin on Christmas Day 2022?
Historically, Bitcoin has recorded steady year-over-year (YoY) growth over the previous three Christmases, but recent technical analysis factors suggest that the uptrend won't continue this Christmas.
Meanwhile, looking at the last weekly candlestick on Bitcoin's weekly chart, three technical analysis (TA) indicators stand out in particular. It's like a shooting star, as crypto analyst Tolberti observed using the TradingView platform.
What do the patterns say?
Specifically, the tombstone doji candlestick pattern is a bearish or crossover formation that can occur at the end of a downtrend as well as during the closing stages of an uptrend, indicating indecision and price neutrality. According to the expert, it could be more of the same for Bitcoin.
At the same time, the bearish star showed that the flagship digital asset is at the peak of an uptrend and the trend may lose momentum as the pattern helps to end said uptrend.
However, the falling wedge pattern recorded by Bitcoin since September 2022 traditionally indicates that bulls can prepare for a renewed push as the price could potentially start making new lows, but at a corrective pace.

Bitcoin price action analysis and forecast. Source: Tolberti/TradingView
On the other hand, Bloomberg senior commodities expert Mike McGlone has predicted a "warm period ahead" for Bitcoin, and according to him, Bitcoin is poised to continue its "better-performing trend" after taking a "beating" in 2022.
His analysis came as Bitcoin failed to sustain gains inspired by the positive Consumer Price Index (CPI) report. Indeed, despite Bitcoin regaining its critical $18,000 position, it has witnessed growing bearish sentiments.
Bitcoin price analysis
Currently, Bitcoin is changing hands at $16,697.34, down 0.04% from the previous 24 hours and 1.88% per week, as shown in the charts taken on Dec. 19, but still up 0.24% in the last 30 days.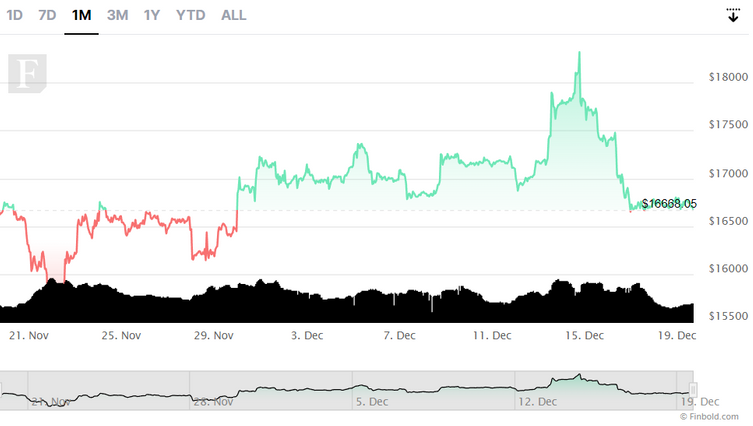 Bitcoin 30 day price chart. Source: Finbold
With a market cap of $321.22 billion, Bitcoin retained its position as the largest cryptocurrency by this indicator, with its closest competitor for that point being Ethereum (ETH) with a market cap of $144.55 billion.
Disclaimer: The content on this site should not be considered as investment advice. Investment is speculative. When investing, your capital is at risk.