Bitcoin (BTC) has endured a tough 2022 as the asset corrected over 70% from its all-time high of almost $69,000. The performance of the flagship cryptocurrency is also correlated with the stock market as investors look for signs of divergence and find a bottom for a possible rally in 2023.
Commodity guru: 2023 will be a 'hot period' for Bitcoin!
Along these lines, Bloomberg Intelligence commodity strategist Mike McGlone predicted that Bitcoin will likely experience a 'hot period' and continue its rally and potentially outperform financial markets, he said in a tweet on Dec.
The strategist also stated that Bitcoin's ability to recover will be affected by the Federal Reserve, which is returning from aggressive monetary policy.
McGlone, "A hot spell ahead: Bitcoin surpasses the trend of better performance. The world's benchmark digital asset took a hit in 2022 like most others, but once the Fed returns to easing, Bitcoin looks set to continue its trend of better performance.said.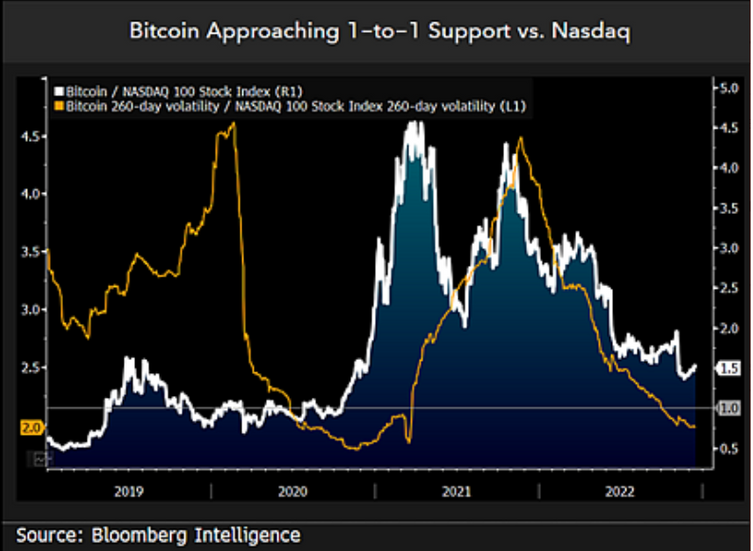 Bitcoin Nasdaq correlation. Source: Bloomberg Intelligence
In his analysis, McGlone added that in 2023, the global economy will focus on a possible downturn and Bitcoin will most likely come to the fore and become a digital collateral. He pointed out that Bitcoin's correlation with the Nasdaq index could translate into supporting the digital asset.
McGlone's sentiments came as Bitcoin failed to maintain gains inspired by the positive Consumer Price Index (CPI) and inflation data. Indeed, Bitcoin has reclaimed the critical $18,000 position, but the asset has witnessed growing bearish sentiments.
Earlier, McGlone stated that Bitcoin-led cryptocurrencies will likely emerge from the current financial sector bear market.
In his argument, McGlone stated that cryptocurrencies are the fastest growing technology that will gain the upper hand once ongoing market conditions end. Meanwhile, the expert argues that Bitcoin will likely reach an all-time high of around $100,000 in the coming years.
Currently, Bitcoin is trading at $16,700 with a market cap of $339.7 billion.
Disclaimer: The content on this site should not be considered as investment advice. Investment is speculative. When investing, your capital is at risk.