The subject is still a touchy one when it comes to Hollywood. There is a fine line between glamorizing alcohol and drugs while at the same time conveying the moral and legal ramifications associated with using them. There are a handful of movies that show the real side of substance abuse without the glitz and glamour, yet are stylized enough to be popular and profitable. I chose the following movies because of my love of movies and because of the various addictions I have struggled with over the years. Every time I see one of these movies it reminds me of where I have been and where I could have ended up had I not managed to defeat my personal demons. With that I have compiled the 10 Best Movies about Substance Abuse.
10
Altered States
Ken Russell, 1980
Edward Jessup (William Hurt in his film debut) is a university professor who, while studying schizophrenia begins to think that "our other states of consciousness are as real as our waking states." Jessup begins experimenting with sensory-depravation using a flotation tank. The professor then enhances the effects of his experiments by injecting a "mushroom cocktail" he brought back from Mexico. In the flotation tank he undergoes a series of increasingly drastic psychological and physical transformations. The 1980 film is an adaption of a novel by the same name by playwright and screenwriter Paddy Chayefsky. It was the only novel that Chayefsky ever wrote, as well as his final film. Both the novel and the film are based on John C. Lilly's sensory depravation research conducted in isolation tanks under the influence of psychoactives like ketamine and LSD. This is a favorite movie of mine because of it's artsy, wildly hallucinogenic drug scenes.
Buy the DVD at Amazon
9
Reefer Madness
Louis J. Gasnier, 1936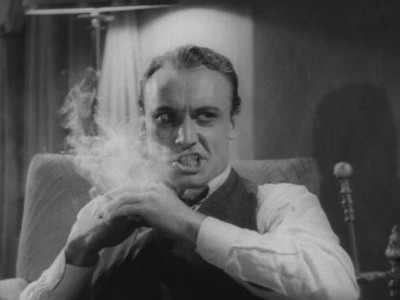 Also titled Tell Your Children, this 1936 cult classic was intended to be shown to parents as a morality tale attempting to teach them about the dangers of cannabis use. However, soon after the film was shot, it was purchased by producer Dwain Esper, who re-cut the film for distribution on the exploitation film circuit. In 1971, Reefer Madness was discovered in the Library of Congress archives by National Organization for Marijuana Reform Laws founder Keith Stroup, who bought a print for $297, and made it the darling of pot smokers and college campuses. For this modern audience, the poor production values and overacting create an uproarious comedy. Stroup is also responsible for the notion that the film was originally created as a propaganda piece. Distributing Reefer Madness to college campuses of the 1970s helped bankroll the burgeoning film company New Line Cinema.
In 2004, 20th Century Fox, in collaboration with Legend Films, released a colorized version of the film on DVD. The original release date was April 20, 2004 (4/20/2004) , a reference to the marijuana slang term "420." Also during the film, the number "4" and then "20" is flashed very quickly (as a joke on subliminal messages), which is an effect added by Legend Films. The color version features intentionally unrealistic color schemes that add to the film's unintentionally campy humor. The smoke from the "marijuana" was made to appear green, blue, orange, and purple, each person's colored smoke representing their mood and the different "levels of 'addiction'".
Buy the DVD at Amazon
8
The Boost
Harold Becker, 1988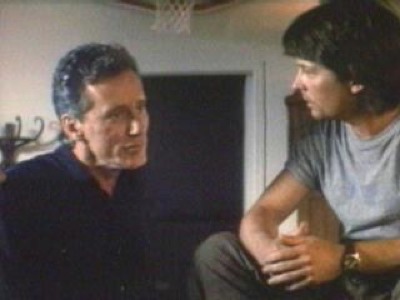 This is an often overlooked but powerful portrait of how a recreational drug user (James Woods) got hooked on coke and ruined his entire life. He got his wife hooked, lost a high powered job, his home, friends and even his unborn child. It was a tragic yet realistic story that was brought to life by the fantastic acting of Woods. It also featured a scene with actress Agnes Moorehead free basing. It was the first time I ever saw crack smoking on screen.
Buy the DVD at Amazon
7
Trainspotting
Danny Boyle, 1996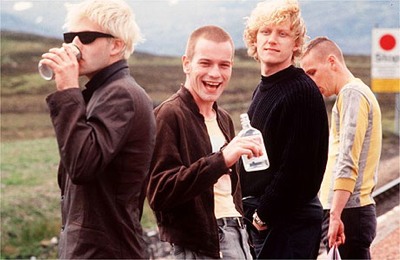 A group of disaffected Scottish youths turn to heroin to escape the banalities of modern-day existence. Then, they begin to suffer the consequences and discover that there are no easy solutions to the inherent loneliness and pain of life. Its release sparked some controversy in some countries, including the UK, Australia and the United States, as to whether it promoted drug use or not. U.S. Senator Bob Dole accused it of moral depravity and glorifying drug use during the 1996 US Presidential Campaign, although he later admitted that he had not actually seen the film. The Academy Award nominated script featured a classic scene in which one of the addicts in the midst of a heroin induced high is searching for the "perfect toilet" in which to take a crap. It is descriptive, highly visual and ultimately one of the most disgusting scenes captured on film.
Buy the DVD at Amazon
6
The Man with the Golden Arm
Otto Preminger, 1955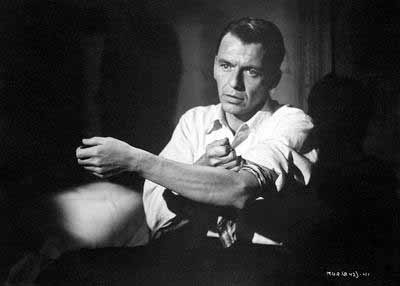 Card shark, musician and ex-con Frankie (Frank Sinatra) battles to curb his heroin addiction while dealing with the needs of his wheelchair bound wife and his true love, Molly (Kim Novak). The film was controversial for its time; the Motion Picture Association of America refused to certify the film because it showed drug addiction. The film was released without the MPAA's seal of approval. This sparked a change in production codes, allowing movies more freedom to more deeply explore taboo subjects such drug abuse, kidnapping, abortion and prostitution.
Frank Sinatra , who jumped at a chance to star in the film before reading the entire script – spent time at drug rehabilitation clinics observing addicts going cold turkey. The script was given to Marlon Brando around the same time as Sinatra, who still harbored some anger at Brando since he had beaten out Sinatra for the lead role in On The Waterfront. Directed by Otto Preminger, it was nominated for three Academy Awards including Sinatra for Best Actor.
Buy the DVD at Amazon
5
Gridlock'd
Vondie Curtis-Hall, 1997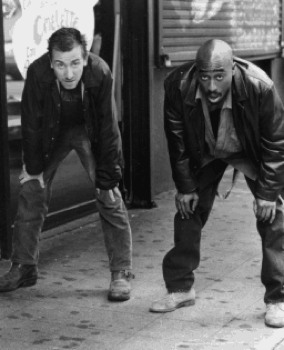 Set in Detroit, 2 heroin addicts (Tupac Shakur and Tim Roth) decide to kick their habit after their best friend and band mate, Cookie, overdoses on her first hit. Throughout a disastrous day, the two addicts dodge police and local criminals while struggling with an apathetic government bureaucracy that bars their entrance into a rehabilitation clinic. Gridlock'd marked the directorial debut of actor Vondie Curtis-Hall. He wrote the screenplay in 1993 and based it on actual life experience as a junkie during the 1970's. Much like the characters in the film, Hall and a friend sought treatment for their addiction only to be told that it would take weeks to get admitted into rehab.. The film paid tribute to star Tupac Shakur who had been murdered several months before the film's release.
Buy the DVD at Amazon
4
Drugstore Cowboy
Gus Van Sant, 1989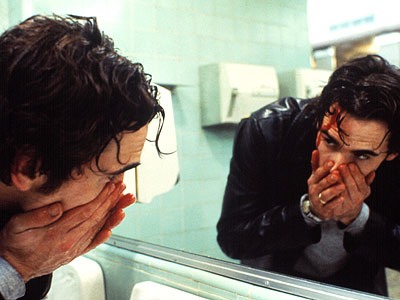 The story follows Bob Hughes (Matt Dillon) and his "family" of drug addicts as they travel across the US Pacific Northwest in the early 1970's, supporting their habit by robbing pharmacies and hospitals. A highlight of the film is an appearance by recovering addict William Burroughs as Tom, a defrocked priest who lectures Bob on the dangers of temptation. After a tragedy strikes the "family" , Bob decides to try to go straight but finds that there is more to extricating himself from the drug user's lifestyle than just giving up drugs. It was a breakout performance by Matt Dillion that helped solidify his career and the success of the movie.
Buy the DVD at Amazon
3
Leaving Las Vegas
Mike Figgis, 1995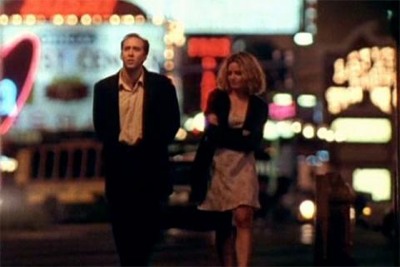 Because his wife left him and took his son with her, screenwriter Ben Anderson (Nicolas Cage) has started drinking….a lot. When he gets fired, he decides to leave everything behind and move to Las Vegas and drink himself to death. In Las Vegas he meets Sera, (Elisabeth Shue)a prostitute with some problems as well who he moves in with. Mike Figgis masterminded the film, not only directing but writing the script and composing the score. In April 1994, shortly before preproduction of the film began, John O'Brien, author of the semi-autobiographical novel this film is based on, committed suicide. As a result, the production was stopped temporarily. Throughout production, Figgis had problems because permits were not issued for some street scenes. This caused him to film some scenes in one shot to avoid any police contact.
Cage researched his character by binge drinking in Dublin for two weeks and had a friend to videotape him under the influence so he could study his speech patterns. He later admitted that "it was one of the most enjoyable pieces of research I've ever had to do for a part." Nicolas Cage received an Academy Award for Best Actor for his work in this film. Elisabeth Shue was nominated for the Academy Award for Best Actress and the film also received nominations for Best Screenplay and Best Director.
Buy the DVD at Amazon
2
Days of Wine and Roses
Blake Edwards, 1962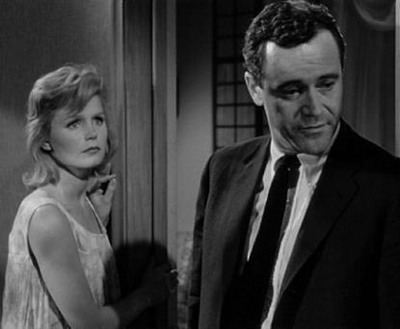 This classic film depicts the subtle, insidious nature of alcohol addiction. It follows the downward spiral of two average Americans who succumb to alcoholism and attempt to deal with their problem. Joe is a former social drinker who turns alcoholic due to pressures at work. He meets his future wife Kirsten at a party, and they both slowly become full-blown alcoholics and lose everything. Joe's crazy and frenzied smash up of the contents of his in-laws greenhouse while looking for a bottle of booze he had hidden there highlights the characters descent into madness.
Director Blake Edwards became a non-drinker a year after completing the film and went into substance recovery. He said that he and Jack Lemmon were heavy drinkers while making the film. Both Lemmon and actress Lee Remick sought help from Alcoholics Anonymous long after they had completed the film. The film had a lasting effect in helping alcoholics deal with their problem. Today Days of Wine and Roses is required viewing in many alcoholic and drug rehabilitation clinics across America.
Buy the DVD at Amazon
1
Requiem for a Dream
Darren Aronofsky, 2000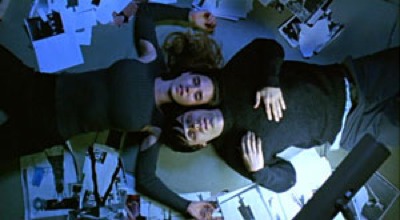 This is probably the grittiest, dirtiest, saddest yet most realistic portrayal of drug users ever put on film. This movie exposes four paralleled individuals and their menacing addiction to heroin, cocaine, and diet pills (speed). Taking place in Brooklyn amidst the decaying Coney Island, the drugs are very easily obtained and keep each main character in its cycle of dependence. Watching the addicts spiral out of control, we bear witness to the ugliest portions of the underworld addicts reside in. Ellen Burstyn was nominated for an Academy Award for her role as Sara Goldfarb, the mother of one of the addicts.
Buy the DVD at Amazon
This article is licensed under the GFDL because it contains quotations from Wikipedia. Some synopses are courtesy of IMDB, the Internet Movie Database.